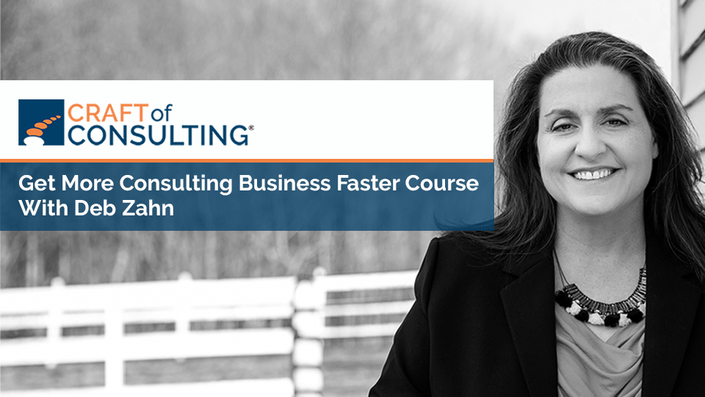 Get More Consulting Business Faster
A Course on How to Win More Consulting Clients and Build Your Consulting Business Pipeline
Enroll in Course
GET MORE CONSULTING BUSINESS FASTER
A Course on How to Get Consulting Clients and
Build Your Consulting Business Pipeline
Is This Course for Me?
If you answer yes to any of these questions, then this course is definitely for you:
Are you a consultant who needs to get consulting clients—and fast?

Do you need help figuring out how to get from zero clients to a robust consulting business that generates income that you need and want?

Do you need to develop or enhance your skills at getting consulting clients and learn how to close more consulting deals faster and more reliably?

Do you want to learn how to focus on the right actions so you can minimize the time you spend chasing business and focus more of your valuable time doing things that generate revenue?
This course will help you do all of those things and more!
How Will This Course Help Me?
You'll Get on the Fast Track to Developing Your Consulting Business
In this course, you'll learn how to "crack the code" of how to get consulting clients by learning insider techniques that successful consultants use to get business fast and keep clients coming back for more. You'll also get tools that will make getting clients easier and faster and let you take short cuts to building a solid pipeline for your consulting business.
You'll Learn and Then Take Immediate Action to Get Clients Now
This course isn't just about learning how to get consulting clients. You'll use tools to take immediate action to get clients—while you are taking the course! If you apply what you learn and use the tools provided, by the end of this course, you will have at least one new client or close to getting one.
GET YOUR FREE BONUS!
Once you enroll, you'll get an exclusive free bonus.
Video Coaching from Deb
You can also send 2 short videos to Deb asking her a question or asking her to review a video of you trying out your description of what you can offer clients. She'll send you back a coaching video within 72 business hours. Email Deb a Loom or similar video link that she can access online to [email protected].
Your Instructor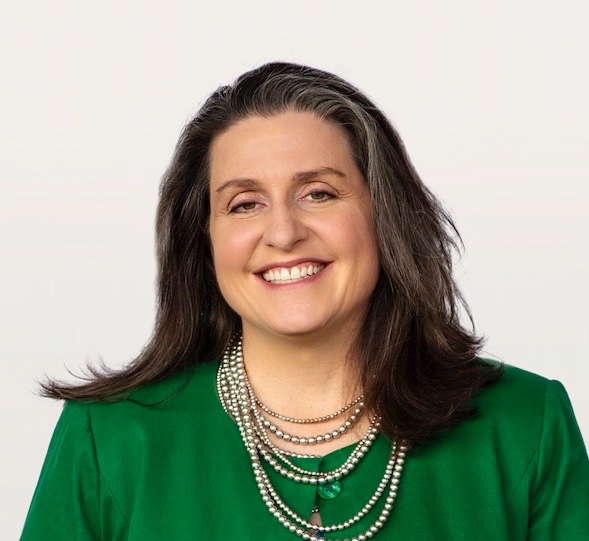 Hi. Deb Zahn here. I am a sought-after consultant with more than 10 years of successful consulting under my belt. As a go-to source in my market, I routinely brings in 6- and 7-figures a year and have built a steady, reliable pipeline of work.
Among other consultants, I have earned the reputation as "The Closer," the consultant who can get high-value contracts with hard-to-get clients. Over the last decade, I have coached countless new consultants and helped them fast track their success. Recently, I helped a new consultant get their first contract—worth over $120,000—only three weeks after I started coaching them.
I want you to enjoy the same success I have. And I want to show you the short cuts that will let you get these faster and help you skip all of the frustrating mistakes that I and too many other consultants made when we first started.
I am also the host of the Craft of Consulting podcast, which features other successful consultants who share their strategies and insights about building their consulting businesses and delighting their clients as well as consulting clients who share what makes some consultants rise to the top of their hire list.
What Will I Get From This Course?
In this 8-module online course, I will take you step by step through how to get consulting clients and build your consulting business pipeline. Through a combination of videos and webinars, you will learn techniques for each stage of the process and then use tools to take immediate action to get clients. In each module and subsequent action period, you'll learn and do the following:
1. Course Overview
You'll get an overview of what you will learn—and do—during the course.
2. Consulting Business Mindset
You'll get insights about how to get your head and heart in the right place to make getting clients easier and more comfortable for you.

You'll learn how to approach prospective clients and sell your services in a way that feels good to you and them.

You'll create a description that helps solidify your consulting business mindset.
3. Describing What You Offer to Win More Clients
You'll know how to conquer one of the first challenges of getting consulting business: describing what you can do in a crisp, compelling way to prospective clients.

You'll create the core description of what you offer with concrete examples that you can immediately start testing, using, and refining with prospective clients.
4. How to Create Awareness Among Prospects and Identify Quality Prospects
You'll learn multiple, effective "big net" and a "little net" techniques to find—and get found—by prospective clients.

You'll know how to target the right prospects so you don't waste time going after the wrong clients.

You'll reach out to your network in the right way so they can help you get clients.

You'll create your prioritized list of targeted prospects to reach out to directly.
5. How to Cultivate Prospective Clients and Get to a Proposal
You'll learn how to get in front of your targeted prospects.

You'll prepare to and then meet with prospective clients, wow them, and get them to ask you for a proposal.
6. How to Create a Winning Proposal
You'll learn the formula for developing proposals that get more yeses.

You'll create an irresistible proposal for at least one prospective client.
7. Closing the Deal: How to Handle Responses from Prospective Clients
You'll learn insider tactics for negotiating common responses from prospective clients and getting more contracts signed.

You'll close at least one deal with a client or be well on your way to doing so.
8. How to Get Repeat Business and Leverage Engagements to Get More Business
You'll learn how to leverage the business you get to generate even more business.

You'll develop your plan to multiply your business in your field or in a market.
Course Curriculum
Module 1
Available in days
days after you enroll
Module 2
Available in days
days after you enroll
Frequently Asked Questions
When does the course start and finish?
The course starts now and never ends! It is a completely self-paced online course. You decide when you start and when you finish.
How long do I have access to the course?
How does lifetime access sound? After enrolling, you have unlimited access to this course for as long as you like and across any and all devices you own. Plus you'll get all upgraded or bonus content for free.
What if I am unhappy with the course?
I never want you to be unhappy! If you are unsatisfied with your purchase, contact me in the first 30 days, and I will give you a full refund. If you take the course, take the action prescribed in the course, but still don't get results, contact me, show me that you completed the tools and took the action, and I'll give you a refund.
Will This Work for Me?
Yes! These techniques have been used by successful consultants—including me—for decades to build their businesses and get revenue flowing in. I have used and refined this process for the last 10 years and it works!
I started consulting in a highly competitive New York City market. I had no clients and had to build my business in a new market where no one knew the firm I worked for yet, and there were other firms and individual consultants who were well-known and respected for the work I was planning to do. But I did it! I built a robust client base that continues to expand—both when I was a consultant at a firm and now as an independent consultant. Using these techniques:
I always have business.

I get consistent repeat and referred business, which means I don't have to chase as much business as I did when I started.

I get to do the work I love without worrying about my income.
If that sounds like what you want too, take this course. Let me share how to avoid common mistakes that will cause you to flounder or, worse, fail and let you in on the insider secrets of what works. And then watch your consulting business grow!